Reach out today, and let's discuss the many ways the Archangel Group can drive your business into the future.
We can help you navigate the government contract process, opening your business up to new opportunities.
Why Pursue Government Contracts?
If this is the first time you're hearing about the potential of government contracts for your business, it may seem like a lot of extra work.
So what exactly is the appeal for those small businesses that have gone through the extra steps required to take advantage of this opportunity to the tune of billions of dollars each year?
Below are five great reasons to explore government contracts for your business …
Contract opportunities already exist.
How much time does your business development team spend reaching out to other businesses, trying to find and pitch and then hopefully convince the ones who might (or might not) need your services?
By contrast, when dealing with government agencies, the need for your services is already there, and the decision has already been made to hire somebody. It's just a matter of which company will get the business.
These opportunities are listed publicly, and all you have to do is connect with the ones that are best suited to your capabilities.

Government contracts provide long-term stability.
For the most part, government spending never experiences a recession.
So when economic downturns happen, as they will, companies that do business with the government simply don't experience the same kinds of financial losses, budget shortages, and employee cutbacks that other companies do.
Combined with the fact that government contracts are a growth industry, providing consistent work over time, this means that taking advantage of these opportunities will stabilize your business in the long run.
Government agencies are a reliable source of income.
The regulated nature of government contracts is such that payments on invoices are received by and large on time, within 30 days. If ever that's not the case for some reason, interest is paid on anything that's overdue.
Compare this to commercial clients that may sometimes be slow to pay, or may not pay at all, perhaps because of financial hardship or economic downturns, making it harder for you to grow your business.
Working with the government improves your overall reputation.
One of the biggest benefits of government contracts is how they can improve the way other businesses perceive your company. Listing government agencies in your client portfolio adds credibility to your brand, and can attract future business.
In particular, testimonials and references from these agencies will carry a lot of weight with clients for whom a track record of timeliness and strong performance are important.

Government contracts are equal opportunity.
For those businesses owned by women, minorities, veterans, young entrepreneurs, or people with disabilities, these contracts offer a tremendous opportunity.
This is because government agencies are prohibited from discriminating on the basis of race, color, religion, sexual orientation, gender identity, or national origin.
What's more, a certain percentage of contracts are specifically reserved for small businesses who fit a particular set of criteria and nobody else.
Are you ready to explore how government contracts can bring increased growth and greater stability to your business?
"The Archangel Group has been a blessing to work with. Their help navigating us through the long and strenuous process of setting up to do work with the D.O.D. is invaluable.

"Ricardo Mong's extensive background knowledge has proven invaluable in our endeavors to do work with the Government. Ricardo and his team have also assisted us with our marketing goals from the very start upon first signing with the AAG.

"His marketing team helped us re-build our website from scratch, create Google Ads, and ultimately helped us stand out from the crowd in a competitive market niche in Miami, FL.

"I would highly recommend using his services to anyone looking to start working with the US government or to anyone looking for high-quality digital marketing work."

– Julio Sanches, DGM Florida General Manager

"The Archangel Group has provided my law firm top notch website development and online marketing strategies. I would recommend The Archangel Group to any law firm, or company for that matter, that needs a website or website redesign, or who engages in online marketing for their business. You cannot go wrong with this team. I give them five stars."

– Dax J. Lonetto, Sr., PLLC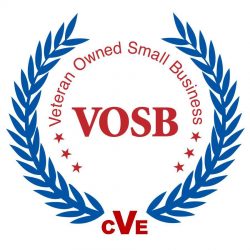 The Archangel Group is proud to have successfully completed the Veteran-Owned Small Business certification. The rigorous application process is designed to qualify veteran-owned small businesses who exhibit strong character and have a history of fulfilling its financial obligations.
The VOSB certification is available only for small businesses that are majority owned and managed by a veteran who is directly involved in the day-to-day operations. With this certification, veterans gain a competitive edge for winning government contracts and attracting customers.