Slide 1

Reach out today, and let's discuss the many ways the Archangel Group can drive your business into the future.
We can help you navigate the government contract process, opening your business up to new opportunities.
Slide 1

Reach out today, and let's discuss the many ways the Archangel Group can drive your business into the future.
We can help you navigate the government contract process, opening your business up to new opportunities.
Proposal Development as a Service (PDaaS)
In 2019, the federal government alone awarded $132.9 billion in prime contracts to small businesses (read the full story), according to the U.S. Small Business Administration (SBA). For companies that provide services the government contracts out, this is potential growth just sitting on the table.
However, significant barriers to entry keep most businesses from ever taking advantage of these opportunities. The Archangel Group's proposal development services will empower you to navigate the government contract process at the federal, state, and local level, bypassing all barriers and opening up your business to a world of stable revenue opportunities.
RFP Research & Identification
For companies who are new to government contracts, identifying the best opportunities for your business that are available at any given time is the first hurdle to overcome; and that's where we come in. We will work with your team to review and research any current RFPs (Request for Proposals) open by the government to determine which opportunities are within your reach and align best with your company's capabilities, interests, and future goals.
SBA Profile & Capabilities Statement
The development of your SBA (Small Business Administration) profile and capabilities statement is crucial to demonstrate your capacity to provide the government the essential services they are requesting. Together, they act like a résumé for your company, and are critical to landing government contracts. In addition, the SBA profile is accessible to federal agencies online, and can make it easier for them to find you when you're the right match for their project. Our in-house professionals have the in-depth experience needed to help you craft these documents in a way that is compelling and accurate.

Proposals Designed to Win
Once your company has made the crucial first step in deciding to pursue a government contract, that's when the hard work begins. The proposal creation and submittal process can be intimidating, with every detail needing to be accounted for, but the Archangel Group has deep knowledge and experience in this area, and understands what it takes to greatly increase your odds of success. Our consultant stands ready to develop and produce bid proposals that not only meet all government compliance standards, but are also compelling, well-written, and professionally designed.
Proposal Life Cycle Tracking
The decision-making process for government contract proposals can take months to process and evaluate. Dozens of bids are being evaluated across a range of factors. Sometimes the decision is not as easy as the lowest bid wins. There are often multiple steps to determining an awardee. These can range from surveys to full out negotiation discussions. By working with Archangel, our experienced consultant will help you track and stay on top of the entire life cycle of all proposals from submission until a final decision is made.
Contract Compliance
Once you've been awarded and begin executing the contract, it's important to understand that the government takes compliance very seriously. Failure to adhere to all stated terms and regulations could result in major headaches, including not being considered for new contracts in the future. The Archangel Group can help you ensure compliance by reviewing all of the operational, logistical, financial, staff, and technology-related requirements of the contract with you on a regular basis.
The good news is that by remaining compliant and successfully executing on even one government contract, it increases the odds of being awarded more contracts in the future. Government agencies prefer to deal with contractors with a positive performance record and that they've already had a positive working experience with in the past.
Are you ready to explore how our proposal development services can bring renewed growth and increased stability to your business?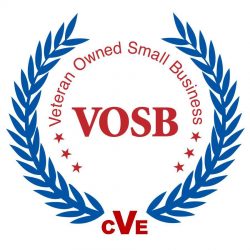 The Archangel Group is proud to have successfully completed the Veteran-Owned Small Business certification. The rigorous application process is designed to qualify veteran-owned small businesses who exhibit strong character and have a history of fulfilling its financial obligations.
The VOSB certification is available only for small businesses that are majority owned and managed by a veteran who is directly involved in the day-to-day operations. With this certification, veterans gain a competitive edge for winning government contracts and attracting customers.