From design to content creation to digital solutions, we provide top-tier marketing expertise to give your business a competitive edge.
From design to content creation to digital solutions, we provide top-tier marketing expertise to give your business a competitive edge.
Marketing Services
Marketing your business is all about telling a story.
More than this, it's about telling the right story to the right people at the right time and place. Whether it's on your website, in your social media, or at a live networking event.
The story you tell prospects needs to not only communicate who you are and what you do, but also also how what you offer customers connects to their story.
AAG can help you plan, build, and tell your story to the world.
Messaging Strategy Plan
The goal of a strong marketing strategy is to answer important questions like the following, which will form the backbone of your business story:
What are the underlying needs your clients have?
What are the challenges you address for them?
What are the opportunities you create for them?
What is the unique promise only you can make to them?
Why do you care about their success?
And why should they care about yours?
AAG can help you answer these questions and create a Messaging Strategy Plan that will serve as a road map to guide all marketing-related activities going forward.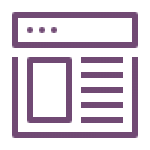 What Story Is Your Website Telling?
Determining the best marketing solutions for your business will vary based on what your goals and who your customers are. But these days, all of them will rely on having a compelling and effective website to send people to.
Using your Messaging Strategy Plan, AAG will evaluate your current site and recommend the best course of action — from simple text changes to a complete site redesign — and then work closely with you to make it happen.
The end result will be a site that clearly tells your unique business story.
View Our Website Portfolio
Visual & Media Solutions
In addition to websites, AAG is prepared to take your business' brand story to the next level with a broad array of powerful visual and media offerings that include:
Logo design and visual brand identity
Video, audio, and photography
Television and internet commercial production
Internet and social media video clips
Banner and social media ads
Infographics
View Our Digital Media Portfolio
Writing & Messaging Solutions
While visuals may catch somebody's attention, they're not enough to tell the full story. The true weight of a business' brand and identity is carried in words it puts out into the world. Our offerings in this area include:
Website messaging
Article writing
Sponsored content ("native advertising")
Whitepapers and case studies
Blog and social media content
Print collateral
Digital Content Marketing
Digital platforms account for at least half of all marketing these days by offering higher reach at lower costs. It also puts your business where your prospective customers are spending their time, on computers and cellphones.
Let AAG help you reach this clientele with services like:
Web marketing strategy
Pay Per Click advertising
Social media strategy
Search engine optimization (SEO)
Email marketing
Lead generation
Are you ready to explore what a compelling business story and a comprehensive suite of marketing solutions can do attract new clients and help you meet your goals?
"The Archangel Group has been a blessing to work with. Their help navigating us through the long and strenuous process of setting up to do work with the D.O.D. is invaluable.

"Ricardo Mong's extensive background knowledge has proven invaluable in our endeavors to do work with the Government. Ricardo and his team have also assisted us with our marketing goals from the very start upon first signing with the AAG.

"His marketing team helped us re-build our website from scratch, create Google Ads, and ultimately helped us stand out from the crowd in a competitive market niche in Miami, FL.

"I would highly recommend using his services to anyone looking to start working with the US government or to anyone looking for high-quality digital marketing work."

– Julio Sanches, DGM Florida General Manager

"The Archangel Group has provided my law firm top notch website development and online marketing strategies. I would recommend The Archangel Group to any law firm, or company for that matter, that needs a website or website redesign, or who engages in online marketing for their business. You cannot go wrong with this team. I give them five stars."

– Dax J. Lonetto, Sr., PLLC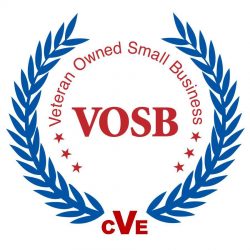 The Archangel Group is proud to have successfully completed the Veteran-Owned Small Business certification. The rigorous application process is designed to qualify veteran-owned small businesses who exhibit strong character and have a history of fulfilling its financial obligations.
The VOSB certification is available only for small businesses that are majority owned and managed by a veteran who is directly involved in the day-to-day operations. With this certification, veterans gain a competitive edge for winning government contracts and attracting customers.