Reach out today, and let's discuss the many ways the Archangel Group can drive your business into the future.
We can help you navigate the government contract process, opening your business up to new opportunities.
GSA Schedule Services
GSA Schedules are long term contracts used by government agencies to procure the goods and services they need in order to achieve their goals.
What's so attractive about these contracts is that they are issued with a five-year base period and the potential of three additional five-year extensions.
This means that as long as you continue to meet the minimum requirements of the GSA and the agency involved, a GSA Schedule contract could last for as long as twenty years.
What's also great about GSA Schedules is that the pool of businesses competing for them is much smaller than the competition for other government contracts.
The main challenge, of course, is that it can require additional time and effort to identify and take the necessary steps to secure one of these contracts.
Which is why we're here to help.
Our experienced team of government contracts experts will help you navigate the GSA Schedules process step by step, leaving you free to do what you do best.
Are you ready to explore how GSA Schedules can bring long-term growth and stability to your business?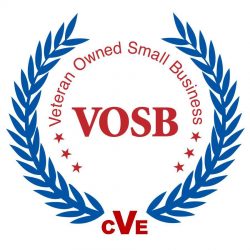 The Archangel Group is proud to have successfully completed the Veteran-Owned Small Business certification. The rigorous application process is designed to qualify veteran-owned small businesses who exhibit strong character and have a history of fulfilling its financial obligations.
The VOSB certification is available only for small businesses that are majority owned and managed by a veteran who is directly involved in the day-to-day operations. With this certification, veterans gain a competitive edge for winning government contracts and attracting customers.