Drive your business forward with our comprehensive suite of consulting, marketing, and recruiting solutions.
Drive your business forward with our comprehensive suite of consulting, marketing, and recruiting solutions.
Improve your overall agility, stability, and long-term viability with solutions tailored to your specific needs.
Improve your overall agility, stability, and long-term viability with solutions tailored to your specific needs.
Grow and sustain your client portfolio year after year by stacking it with recession-proof government contracts.
Grow and sustain your client portfolio year after year by stacking it with recession-proof government contracts.
About the Archangel Group
The Archangel Group is a veteran owned and operated consulting firm that specializes in both government contract acquisitions and premium digital marketing. Armed with a team of industry professionals who are some of the best in their respected fields, our goal is your success.
Holding true to our name, we have put together a group of original chiefs in an effort to deliver the best possible service to our clients. Archangel / is an angel of high rank. The English word archangel is derived from the Greek (arch + angel, literally "chief angel" or "angel of origin").
We stand ready to help your small business meet and exceed your client growth goals by connecting you with lucrative and reliable government contracts, as well as future-facing strategic partners, all while enhancing your existing marketing plan and tactics.
Our Mission
From the beginning, the Archangel Group's mission has been to give small businesses a competitive channel into the lucrative government contracts market without breaking the bank or losing focus on their core business.
As founder Ricardo Mong learned during his time in the Middle East, experienced contract acquisition firms charge a high premium, with no guarantee of winning government work for their clients. This is why he decided to create a value-added firm that empowers clients not only to win government contracts over time, but also bolster and grow their business on the private side in the meantime.
This is why the AAG offers a two-pronged approach, offering clients premium digital marketing services in tandem with our government contract services. This allows us to win our clients government work over the longer term, while also providing marketing services to bolster commercial business in the short term.
We also believe strongly in making sure our clients have the financial breathing room needed early on to embark on a journey of pursuing government contracts. Which is why we've created what we believe to be "sustainable" pricing packages, steadily adjusting our rates over time to ensure and maximize client growth.
Who We Are
The Archangel Group is a diverse team of both military veterans and civilian professionals, all with distinct capability sets, who bring to the table a combined 50+ years of experience in government contracts and digital marketing.
Our knowledge of and extensive experience with the specialized world of government contracts and contractors sets us apart from the crowd, virtually eliminating the barriers to entry that generally put these clients and strategic partners out of reach for most small to medium-sized businesses.
Our Renewable Energy Commitment
Here at the Archangel Group, we are passionate about the idea that all companies should impact the world positively by dedicating themselves to eco-friendly practices that reduce their overall carbon footprint. That's why we have committed to taking proactive and innovative steps to reduce the environmental impact of doing business.
These steps include the following:
Not only going paperless ourselves, but encouraging our clients to do the same, as well as using recycled materials and streamlined packaging whenever feasible;
Exploring options for ourselves and our vendors to take advantage of and advance technology in the area of wind, solar, hydro, and other forms of renewable energy that decrease reliance on traditional fossil fuels;
Encouraging investment in battery cell technology, in order to make best use of the considerable gains made in renewable energy generation;
Offering our clients guidance and contract opportunities in the area of renewable energy alternatives like green fleet and solar energy conversion; and
Consciously choosing to work with clients, vendors, and contractors who follow similar green practices.
By adopting practices like these and following environmentally sound business practices, it is our intention to come as close to maintaining a closed-loop, zero waste supply chain as is possible. We hope you'll join us in this critical initiative, designed to protect our communities now and improve life on Earth for future generations.

Philanthropy
At the Archangel Group, we believe that the success of any responsible business is something that should be shared with the community–to effect positive change both for the world and for those individuals within it who might need a little help.
Of course, when it comes to worthwhile charities and causes, there is no shortage of options to choose from. But there are several that are close to our heart, and to these, we have pledged to contribute 3% of our annual gains. Read more about how we give back to the community.
"The Archangel Group has been a blessing to work with. Their help navigating us through the long and strenuous process of setting up to do work with the D.O.D. is invaluable.

"Ricardo Mong's extensive background knowledge has proven invaluable in our endeavors to do work with the Government. Ricardo and his team have also assisted us with our marketing goals from the very start upon first signing with the AAG.

"His marketing team helped us re-build our website from scratch, create Google Ads, and ultimately helped us stand out from the crowd in a competitive market niche in Miami, FL.

"I would highly recommend using his services to anyone looking to start working with the US government or to anyone looking for high-quality digital marketing work."

– Julio Sanches, DGM Florida General Manager

"The Archangel Group has provided my law firm top notch website development and online marketing strategies. I would recommend The Archangel Group to any law firm, or company for that matter, that needs a website or website redesign, or who engages in online marketing for their business. You cannot go wrong with this team. I give them five stars."

– Dax J. Lonetto, Sr., PLLC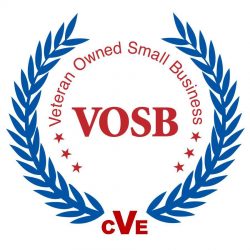 The Archangel Group is proud to have successfully completed the Veteran-Owned Small Business certification. The rigorous application process is designed to qualify veteran-owned small businesses who exhibit strong character and have a history of fulfilling its financial obligations.
The VOSB certification is available only for small businesses that are majority owned and managed by a veteran who is directly involved in the day-to-day operations. With this certification, veterans gain a competitive edge for winning government contracts and attracting customers.